My son has been talking about Space Jam: A New Legacy for years. He might even pick it for his monthly father/son outing since he's been waiting so long.
By the time the credits roll in Space Jam: A New Legacy, producer Maverick Carter hopes the audience feels a sense of joy — and not just in watching LeBron James and the Looney Tunes team up in a spectacularly imaginative cartoon universe.
The footwear introduces a new generation of fans to the world of Looney Tunes, featuring colorways and graphic treatments that highlight different characters.
The "Tune Squad" Nike Dri-FIT Jersey replicates what the King wears while leading his wisecracking team of Tunes against their Goon rivals. It's made from smooth, shiny Durasheen fabric with an engineered print and premium sewn-on letters and labels.
The "Tune Squad" Nike Dri-FIT Shorts are made using smooth, shiny Durasheen fabric with sweat-wicking technology. The fully engineered digital graphic is topped by a sewn-on twill "6"  patch to match the movie shorts. 
It's LeBron and the Tunes vs. the Goons. The "Goon Squad" Nike Dri FIT Jersey matches what LeBron's Goon rivals wear on the cartoon court.
The fabric has an allover sublimated print topped with a stitched-down  twill "Goon Squad," embroidered logos and a special woven label. 
Match what the Goons wear when the cartoon baddies take on LeBron and his Tune Squad in the new basketball blockbuster. The "Goon Squad" fully engineered digital graphic is topped by a sewn-on twill "GS"  patch to match the movie shorts.
LeBron x Space Jam: A New Legacy "Tune Squad" Varsity Jacket – Tune Squad Jacket • $200 USD
A GLOSSY, SATINY JACKET FOR LEBRON'S TUNE SQUAD: Get the LeBron x "Tune Squad" Nike Varsity Jacket before it becomes a can't-get-your-hands-on-it collectible! Comfortably lined and lightly insulated, it combines the sensational look and feel of shiny sateen fabric with heavyweight striped ribbing and snaps. High-end graphics, embroidery, and stitched-down trims add a premium touch to this classic silhouette.
New LeBron 18 Low Sneakers
Bugs Bunny vs. Marvin the Martian design, is mostly different shades of gray combined with pink and black.
Tweety Bird vs. Sylvester the Cat contains flashes of yellow and pink mixed with light and dark shades of black. Inscribed near the heel is Sylvester's most memorable phrase "Sufferin' Succotash".
Road Runner vs. Wile. E. Coyote rounds out the three designs. This is probably my favorite because of how much of the film it incorporates into the shoe. The most vibrant of the trio it include the phrases "Yeooooowwwwww…." for Road Runner near the heel and "Acme" on the Nike swoosh for Wile. E. Coyote.
The shoes are expected to cost $160 and will release in July on nike.com, SNKRS and at select retailers.
There will also be toddler-sized shoe designs. Among those are versions of the Air Force 1, each resembling different characters and will cost $90.
There are also a Bugs Bunny and Road Runner vs. Wile. E. Coyote LeBron 18 Low Toddler version of the shoes as well.
About Space Jam: A New Legacy
Welcome to the Jam! Basketball champion and global icon LeBron James goes on an epic adventure alongside timeless Tune Bugs Bunny with the animated/live-action event "Space Jam: A New Legacy," from director Malcolm D. Lee and an innovative filmmaking team including Ryan Coogler and Maverick Carter.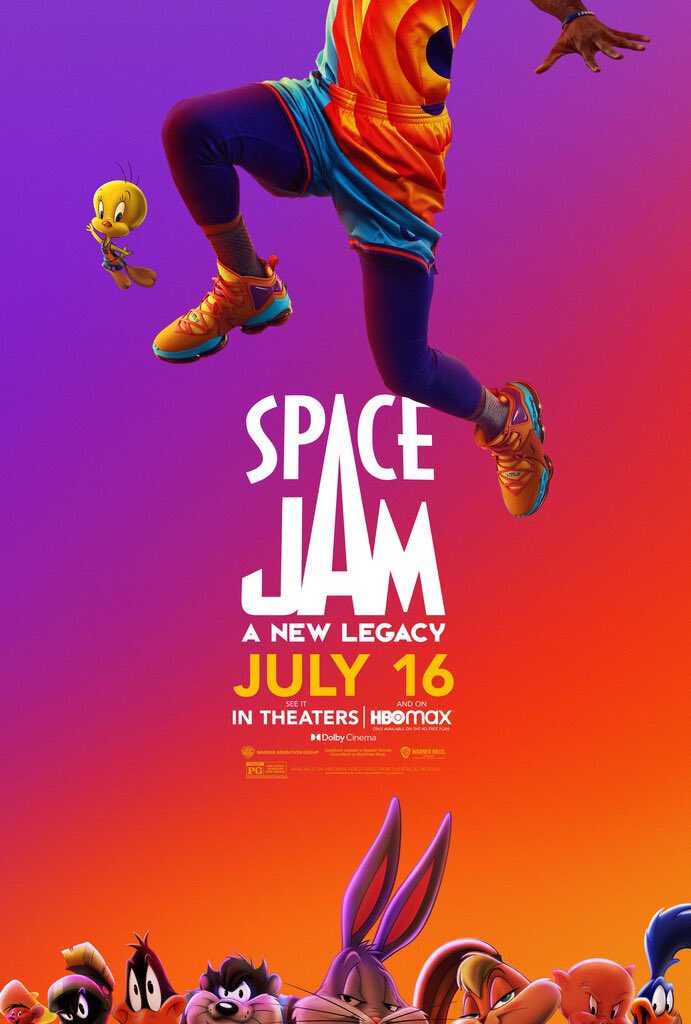 This transformational journey is a manic mashup of two worlds that reveals just how far some parents will go to connect with their kids. When LeBron and his young son Dom are trapped in a digital space by a rogue A.I., LeBron must get them home safe by leading Bugs, Lola Bunny and the whole gang of notoriously undisciplined Looney Tunes to victory over the A.I.'s digitized champions on the court: a powered-up roster of professional basketball stars as you've never seen them before.
It's Tunes versus Goons in the highest-stakes challenge of his life, that will redefine LeBron's bond with his son and shine a light on the power of being yourself. The ready-for-action Tunes destroy convention, supercharge their unique talents and surprise even "King" James by playing the game their own way.
Warner Bros. Pictures is about to inspire a whole new generation of movie fans with Space Jam: A New Legacy, starring LeBron James, Bugs Bunny, and everyone's favorite Looney Tunes, coming to theaters and HBO Max on July 16.
To learn more about the film follow IG/TW/FB: @SpaceJamMovie use the hashtag #SpaceJamMovie and visit the website: http://www.spacejam.com/