Everyone is always looking for different ways to cut down on their "bad" foods and often thinks like chocolate and other snacks are the first one the list. What if you could have delicious premium low calorie chocolate that can easily stay on your snack list and don't have to be cut off. Every year for Valentine's Day I spend the day with my family for our Family Love Dinner and this year it was no different. However, I did had a special Galentine's Day Lunch with a few of my girls and GATSBY's chocolate was in the little gift bags I gave to my friends to celebrate our friendship.
Disclosure: "I received this product for free from Moms Meet (momsmeet.com) to use and post my honest opinions. This post may contain affiliate links. "
Eating healthy shouldn't mean that you have to remove all the things you love from your life. When I started to change my diet, so many different things got replaced or removed permanently. The great thing about Moms Meet is that I've found some amazing replacements for my diet that has prevented me from taking out things that I love and did not want to remove from my life.
I've always been a huge fan of chocolate so when I was asked to try GATBSY's premium chocolate I was definitely on board with giving it a try and share it with friends. I received a package of GATSBY's Almond Dark chocolate to sample and when it arrived I knew it would be perfect to as a Galentine's Day gift. I could also share with my girlfriends a nice treat that was healthier than anything they would probably get as sweets this year.
About GATSBY Chocolate:
GATSBY Chocolate is the first ever low-calorie chocolate. The brand is on a mission to build a community of chocolate lovers who deserve a chocolate they can enjoy every day without having to worry about fat and sugar.
Low calorie: the first and only low-cal chocolate with half the calories of even sugar-free brands
Low sugar: 90% less sugar than premium chocolate brands
Low-fat: 90% less fat than premium chocolate brands
Keto-friendly: only 1–2 grams of net carbs per serving, or 6 grams of net carbs for an entire bar
Vegan varieties: Sea Salt Extra Dark, Almond Dark, and Dark Chocolate Peanut Butter Cups
Typically retails for $2.99–$3.99
My Thoughts:
I'm a huge fan of dark chocolate, I will eat it any time over milk chocolate. It has a richer flavor and when a little sea salt is added to the chocolate bar it's just spectacular. When you're thinking about a chocolate snack that's better than the others that are low calorie and low in sugar. I had the opportunity to try GATSBY's Almond Dark. They were the perfect little bit sized sections of chocolate with small pieces of almond on the bottom part of the bar. I'm not sure how they would let you count a third of the bar though because there are ten pieces of chocolate in each bar, so I guess three pieces would equate to a serving.
The chocolate was a tad bit bitter but it had the right amount of almond pieces that made it very good. Not too much crunch and it did not overtake he taste of the chocolate either. The design of the box and the package in the box was very pretty and makes it perfect for gifting. Another great thing about this company is that they even have chocolate that are Vegan and Keto friendly. So they can be extra special gifts for your friends and family with special diets.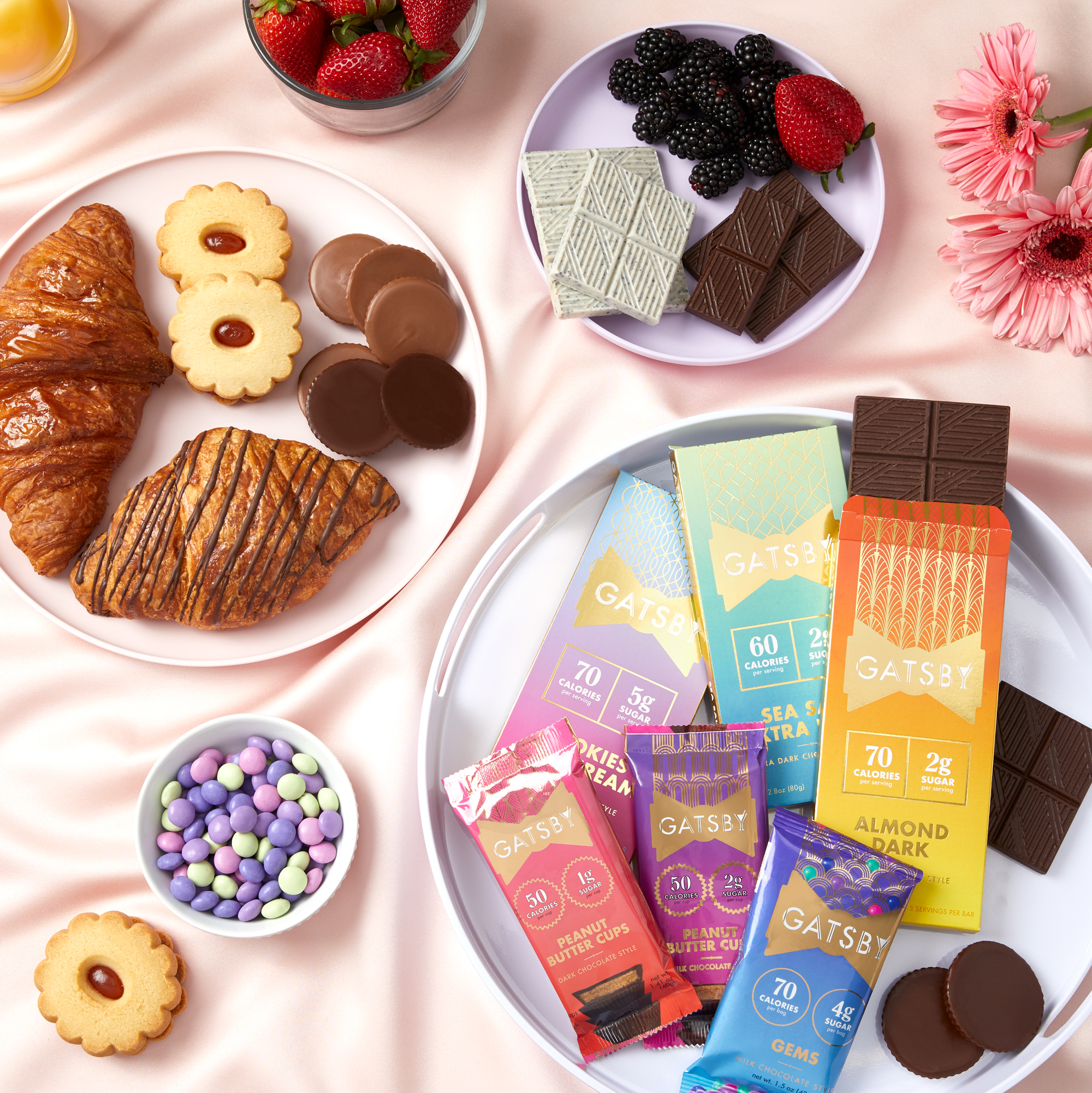 Get A Free Sample & Where to Purchase
GATSBY Chocolate has so many amazing flavors to choose from like, Peanut Butter Cups, Gems, Cookies and Cream, Sea Salt Extra Dark, Peanut Butter Madness, White & Dark Chocolate Peanut Butter Cups, and Oat Milk Crunch just to name a few. You don't have to take my word about how delicious this chocolate is, visit their website to 'Get A Free Bar or Pack of Cups' from GATSBY Chocolate.
GATSBY Chocolate is available to purchase at Sprouts Farmers Market, Safeway, Albertsons, and in stores and online at Walmart. To find GATSBY Chocolate in your area, visit gatsbychocolate.com/pages/store-locator for the full list of locations.