I've been waiting to grab my own copy of Mulan to own. Recently Disney's attempt to remake animation classics in live-action format has been a big hit or miss. I loved Beauty and the Beast, and really that's cause I'm very biased. Belle is my favorite Disney princess of all time, so I was going to love that regardless, and Cinderella was well done as well, Lion King though wasn't what I expected but as a woman of color, I had very high expectations for Mulan. With everything going on in the world right now I feel like the movie didn't get to make the mark it could have made in culture. I will say for sure if you don't own or haven't seen the movie yet, it's one you must add to your holiday shopping list. Whether you're giving it as a gift to someone or adding it to your own stocking it's one you must own.
About Mulan
Disney's animated treasure Mulan has captured audiences for over 20 years, and this year's live-action re-imagining of the beloved tale has been
hailed as "visually stunning and action-packed" (Brian Truitt, USA Today). Just in time for the holidays, bring home both the animated original – new in 4K Ultra HD™ – and the live-action film. The films will also be available in a 2-movie collection which will include the Blu-ray™, DVD, and digital of both films.
Disney's Live-Action Mulan
Acclaimed filmmaker Niki Caro brings the epic tale of China's legendary warrior to life in Disney's Mulan in which a fearless young woman risks everything out of love for her family and her country to become one of the greatest warriors China has ever known. When the Emperor of
China issues a decree that one man per family must serve in the Imperial Army to defend the country from Northern invaders, Hua Mulan, the eldest daughter of an honored warrior, steps in to take the place of her ailing father. Masquerading as a man, Hua Jun, is tested every step of
the way and must harness her inner-strength and embrace her true potential. It is an epic journey that will transform her into an honored warrior and earn her the respect of a grateful nation… and a proud father.
If you're looking for a good family movie night film this is a must-see for sure. My whole family enjoyed this movie. Honestly, it defiantly lived up to the animated classic. There were a few moments that I felt Disney could have done more or made her more of a hero but she was terrfic. Representation truly matters and this is one film that I think young girls have a new role model to look up to from this live-action film. I'm sure we'll be watching it over and over again.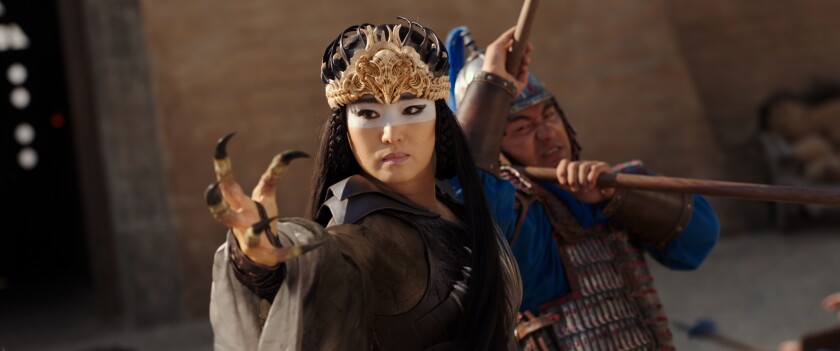 Another female character in the film I really liked was Gong Li who played the "witch" in the film. She was strong and very powerful, and we see how she talked about being pushed aside because of her power. It's a good conversation piece to start the conversation with your children about allowing people to shine and show their light. While she was an antagonist in most of the film it was rewarding to see her use her power to help Mulan in her battle. There are so many great stories in this film that's why I think it will be an excellent choice for family movie nights.
Check out Go Noodle's Good Energy for Grownups site now for a special sneak peak of MULAN!
Thanks to the folks at Disney I have a digital code to giveaway to one lucky reader. Enter via the tool below. Good Luck!.
Paw Patrol: Jet to the Rescue