When I found out I was having my first baby, I was elated. Just a year before that I was told that having children may not be possible. It was a crushing blow to me because as long as I can remember I've always wanted to be a mom. When It came time to plan the baby shower, I wanted to find a character that was special and meaningful. After lots of research, I ended up choosing Classic Pooh. It was perfect and some of her gifts was passed down to all her siblings, and we even saved a beautiful blanket for her to pass on to her own child when she becomes a parent.
Pooh has always held a special place in our hearts, so we couldn't wait for Disney's Christoper Robin to arrive on Blu-ray and DVD.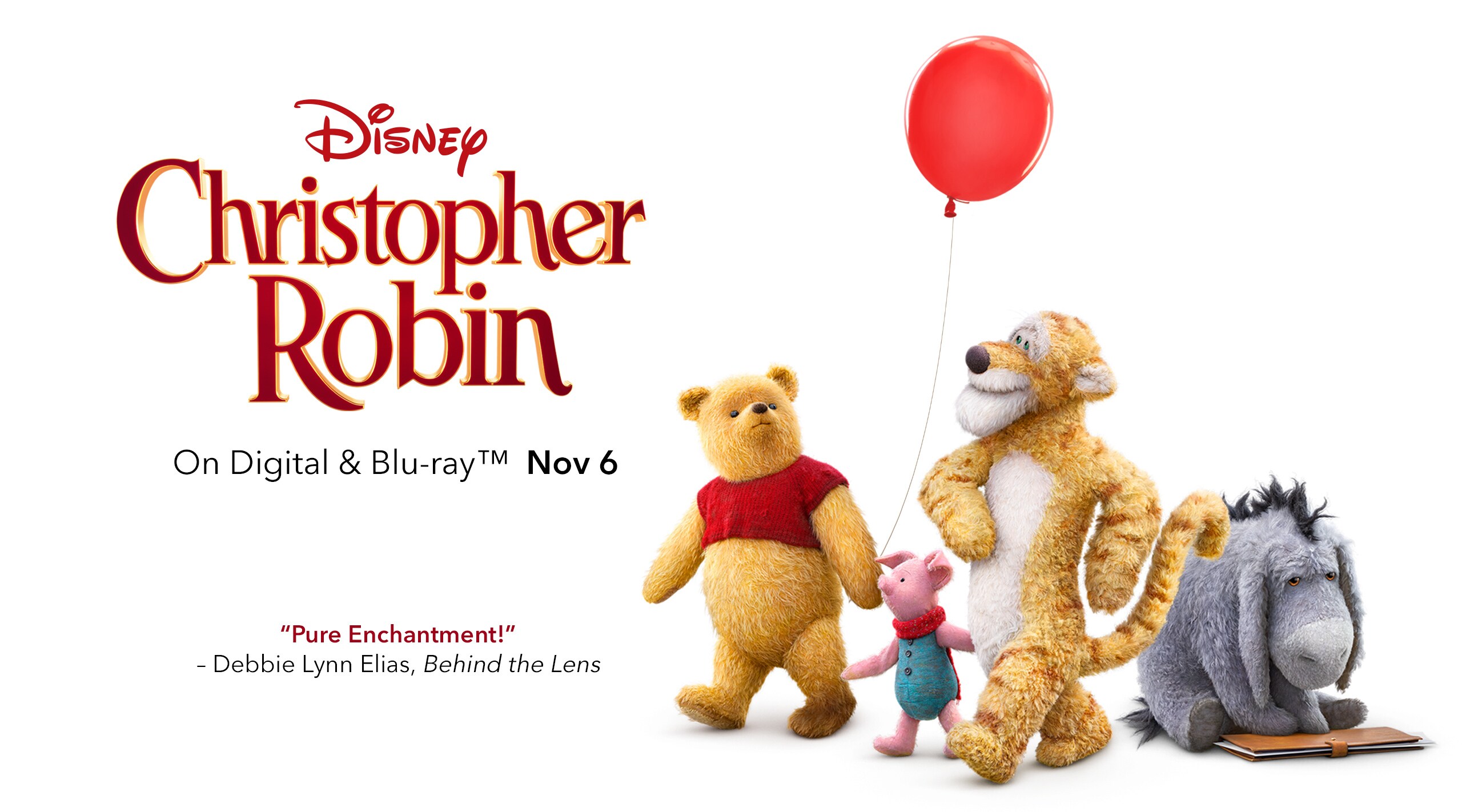 On Nov. 6, Disney's "Christopher Robin," the wondrous, live-action film in which Winnie the Pooh and friends venture into mid-century London to help grown-up Christopher Robin (Ewan McGregor), arrives instantly on Digital and Movies Anywhere and on Blu-ray™ and DVD with captivating, behind-the-scenes extras. The fun-filled tale features A.A. Milne's timeless characters from the Hundred Acre Wood — Pooh, Tigger, Piglet, Eeyore, Kanga, Roo, Rabbit and Owl — making their first appearance as three-dimensional characters who remind Christopher Robin, and viewers of all ages, to appreciate the simple pleasures in life.
Bonus features provide a heartfelt look at the making of "Christopher Robin," showcasing the magical artistry that brings the classic characters to life, the human actors' techniques for interacting with stuffed animals, and the filmmakers' passion for their project. Bronte Carmichael, who plays Christopher Robin's daughter Madeline, takes viewers on an exciting journey from the drawing board to film locations throughout the United Kingdom. Features flashback to highlight Walt Disney's fondness for Winnie the Pooh and recall the voice actors who lovingly portrayed the unforgettable voice of the iconic character. An exclusive digital bonus feature explores the actual teddy bear, given to Christopher Robin Milne 98 years ago, which inspired the original Pooh stories that have been shared and adored by families around the globe.
"Christopher Robin" will be packaged and released in several different formats, giving families the flexibility to watch the film on a variety of different devices. Viewers can instantly watch the film in Digital HD and SD, and bring home a physical copy of the film as a Multi-Screen Edition (Blu-ray, DVD and Digital Copy) or a single DVD.

Bonus features include*:
BLU-RAY & DIGITAL HD:
In Which … A Movie Is Made for Pooh – Filmmakers and cast share their passion for this story in a behind-the-scenes look at the making of the movie.
In Which … Pooh Finds His Voice – Discover what it's like to voice Winnie the Pooh, from voice actors Sterling Holloway to Jim Cummings.
In Which … Pooh and Walt Become Friends – How did Walt Disney and Pooh meet? Take a journey through time to explore the legacy of Walt's first encounter with Pooh.
In Which … Pooh and Friends Come to Life – See how Winnie the Pooh and Friends were brought to life as walking and talking stuffed animals in this magical live-action world.
EXCLUSIVE DIGITAL BONUS FEATURE:
In Which … We Were Very Young – Meet the actual, original teddy bear who, along with his best friends, has inspired so much love worldwide for almost a century.
Healthy Honey Recipes
The folks at Walt Disney Home Studios sent me a fun Christoper Robin Gift Basket to host a Friendsgiving Dinner. I'll be sharing some of the delicious recipes next week on the blog but you can give the three recipes below a try anytime.